Got a few new hair products in the last few days so thought i'd give them a quick review.
First of all i picked up a new pair of Nicky Clark straighteners from a mere 8 pound from Tesco. I don't often straighten my hair as prefer a more wavy look but a few recent celebrity styles had inspired me to get back on the straight and narrow.
Here is some of my straight inspiration...
Right so here are the straighteners i used..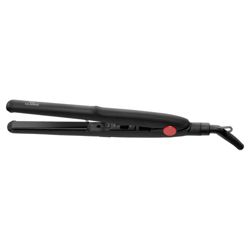 They are eight quid in Tesco at the moment on a clearance offer but if you can't get to Tesco you can also buy them from Amazon here for £17.99. They are desgined for short hair but i have very fine hair so fine the thinner plates on hair straightener tend to work better on my hair. I also used a cheap heat protection serum from Superdrug which i picked up for just 50p.
So here are the results....
The first picture is how my hair looks after letting it dry naturally and the second is after using the straighteners. As you can see they work pretty well and give a very sleek and smooth look. Apologies for the bad photos (I'm home alone!)
Before i rave about these straighteners i must clarify that my hair is very very easy to straighten and I have a lot more issues getting it curly than straightening it. But overall i'm very happy with this product.
Problem is poker straight hair just isn't me and i feel the need for volume which brings me onto a review of my next product.
I picked up this product after using a similar one my friend had got the other weekend and i must say I'm pretty impressed.
As you can see this powder adds tons of volume to the hair and is dead easy to use. You just put your hair back to the roots and rub some along the hairline. My only qualm about this product is I think it's going to massively massively knot my hair up but hey suppose it's better than back combing?!
Has anyone else used any of these products?